On Location
Production began in 1970 - more than 50 years ago ! This centre photo shows Joy Whitby and some of the production team along with the boys on the island of Corsica in 1970. What is interesting is that it shows how the Grasshopper Island project had a relatively small team of talented people working together to create the show.
The photographer behind the largest photo above is unknown to us. Are you the copyright holder? If so, please let us know!
London
The exteriors and interiors of Number 20 Broad Street, the home of Toughy, Smarty and Mouse were shot here. Chosen because of the tall terraced houses that are still there today, though Broad Street is a fictitious street name. The boys make their departure by taxi from here.
Then through the use of some movie magic the scene seamlessly cuts to the next location - Tilbury Docks in Essex.
Tilbury, Essex
Chosen because Tilbury was a busy cargo port situated on the Thames estuary. It is here that the boys can be seen walking with the magical musical trunk. Behind them large cargo ships and tall cranes loom large. Tilbury appears in the dockside scenes immediately prior to our first glimpse of The Elderly Boy. It is exactly then that the scene seamlessly cuts to the next location - Milford Haven in Wales!
Milford Haven, Wales.
In the 1970s Milford Haven was also a working dockland with plenty of dock workers and big ships. Exactly the kind that Toughy, Smarty and Mouse needed to journey to an uninhabited Island. Luckily for them, the Elderly Boy lived in an old lifeboat which proved to be much more practical! Again the location appears only for a brief moment, as the trio board the lifeboat and embark upon their grand adventure.
Like to know more? Check the Blog!
Did you know that 2021 is the 50th anniversary of the TV series first broadcast? Perhaps you have wondered what became of the magical musical trunk that the boys brought with them as they journeyed to Grasshopper Island? Find out now over at the blog. We are developing the blog throughout Summer 2021 so check back often, and leave a comment if you enjoy !
The Production Team
A small piece about each contributer who worked hard behind the camera to make the TV series a reality.
Joy Whitby
Writer & Producer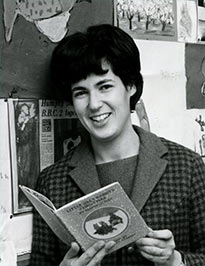 Joy conceived, wrote & produced Grasshopper Island as the first project for the newly created Grasshopper Productions in 1970.
Very much a hands-on producer, Joy was on location every day and spent her evenings developing the story and preparing for the next days shoot. We asked Joy how she achieved such naturalistic dialog.
"
Although the storyline of each episode was carefully scripted, I would tell the boys what they had to say just before a take and they would ad lib in their own words which gave it a very natural feel and was easy for them to perform.
"
Doreen Stephens
General Manager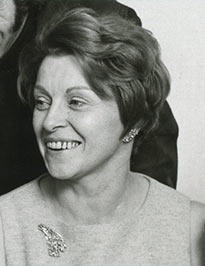 Doreen worked tirelessly behind the scenes. Joy explains:
"
Doreen was my ex boss at the BBC and London Weekend Television. She was a colourful character whom I much admired and it was a bonus when she agreed to help with this first independent production after we had both resigned from LWT. In spite of her distinguished career she never stood on her dignity and was a wonderful support for us, organising anything that needed to be organised. She kept all the accounts and cheerfully did the cooking and washing up when needed so that I could work on the script in the evenings, ready for the next day's shoot..
"
Tony Leggo
Cinematographer
Tony Leggo joined the project as an experienced film camera operator, having worked on countless British film and television projects. Tony worked on television projects, including Steptoe & Son (1962), The Dick Emery Show (1963/64), Z Cars (1965), Doctor Who (1970) and The Goodies (1970) to name but a few. There is no "Director" credit on Grasshopper Island, and Joy explains why:
"
Tony Leggo, our cameraman, had worked on the famous comedy series The Goodies. (He introduced me to Tim Brooke-Taylor who was one of the three stars.) We really shared the direction for Grasshopper Island. Tony composed the shots and I directed the actors.
"
Brian Simmons, Chris Pow
Sound Recordists
Brian Simmons has worked on more than 100 films since 1966, one of which was Grasshopper Island in 1970. He has had a stellar career since then, being nominated for an Academy Award in the category Best Sound for the 1995 film Braveheart. Brian is a founder-member and Fellow of AMPS (Association of Motion Picture Sound) and a member of BAFTA, EFA and C.A.S.
Chris Pow also went on to have a successful career in Film and Television, and has held the post of Head of Sound Post Production at the National Film & Television School (NFTS).
Each episode of the original ITV series features a wonderful narration by the playwright Keith Dewhurst. Aside from his extensive writing, Keith had been working at both Granada Television and the BBC in the late 1960's as a sports commentator.
In 1971 he was asked to narrate each of the 13 episodes for Grasshopper Productions. You can hear an updated voice over captured in 2008 for the UK DVD release. The original 1970s recording can be found on the Extended Edition / Directors Cut of the DVD from 2013. Having never worked on a children's programme before, his wry delivery had a quirky edge that appealed to all ages.
All those who enjoyed the original 1971 broadcast of the series, are bound to hold a special place in their hearts for Keith's unique interpretation.
We thank you Keith!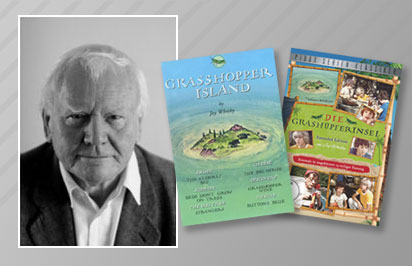 Keith Dewhurst
Remember that voice? Take a listen to a clip from the original narration as broadcast in 1971 - featuring the talents of Keith Dewhurst.
Wilfred Josephs (24 July 1927 – 17 November 1997) was a prolific composer and is the genius behind a great many TV and film theme tunes. Indeed it is unlikely that any entertainment fan living in the 20th century would not have heard the music of Wilfred Josephs. He was commissioned to compose the incidental music and theme tune for Grasshopper Island in 1970/71.
His compositions are almost too many to mention, but other works that may be familiar to G.I. fans include :
Horizon (BBC TV series - ongoing)
Fanatic (1965)
The Prisoner (1967)
Hostile Witness (1968)
My Side of the Mountain (1969)
Cider With Rosie (1971)
Swallows & Amazons (1974)
All Creatures Great and Small (1975)
Pride & Prejudice (1980)
Martins Day (1985)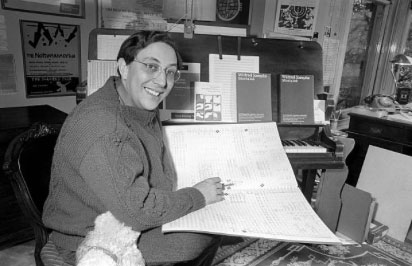 Wilfred Josephs
(24 July 1927 – 17 November 1997)
It would be impossible to imagine the series without the charming melodies Wilfred Josephs composed for Grasshopper Island.