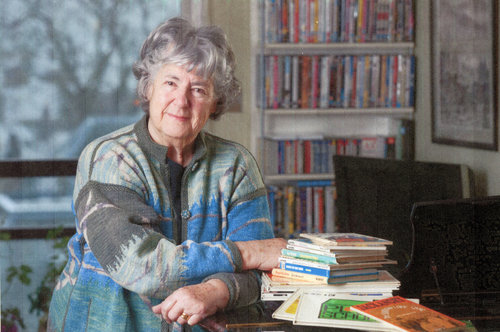 Joy Whitby
is an amazing lady. A stellar career in TV production starting in 1962, resulted in a string of ground-breaking TV shows which are still remembered fondly today.
Anyone who lived in the U.K. and was lucky enough to have a television set in their youth, will recall many of Joy Whitby's creations with a great deal of fondness and an equal measure of nostalgia. Starting in radio, but moving quickly into TV, an attachment to Blue Peter led to an opportunity for Joy to create and produce a brand new BBC TV show called Play School in 1964. Its success led to Jackanory, a daily story-telling series that became cult viewing for decades.
Fast forward to 1967, it was at London Weekend Television (LWT) that Joy branched out into drama, producing The Growing Summer, with Wendy Hiller, Knock Three Times with Hattie Jacques, and Catweazle starring Geoffrey Bayldon. All amazing and memorable TV shows!
After these very successful years at LWT, Joy decided to set up her own independent production company in 1970. And her first creative project? That's right - Grasshopper Island, the show that Joy wrote and produced for ITV in 1970. And the show that gave Grasshopper Productions its name.
So it is this remarkable and joyous series that our little website pays hommage to - fifty years ago it came to pass that Joy, her friends and three young brothers known to her, would all set sail for Corsica, and commit to film something that simply couldn't be made today. Something that in hindsight is a window onto a kind of simpler time, and arguably a better time. And so we celebrate it, without in any way diminishing any of the many glorious achievements that Joy Whitby has attained before and after Grasshopper Island.
Joy has been involved with or is considered the mastermind behind many other award-winning series while working at London Weekend Television and Yorkshire Television. A founding member of the Board of Channel 4, and a member of the National Trust's Advisory Panel for Youth. The Board of the Unicorn Theatre welcomed her valuable input as did the Board of the International Child Care Trust.
Her awards include a BAFTA for Play School, a Prix Jeunesse for The Book Tower, and an ACE Award for The Angel and the Soldier Boy. And Joy has had the honour of receiving the Eleanor Farjeon Award in 1979. The spirit of the award is to recognise the unsung heroes who contribute so much to every aspect of children's books. Joy now works as an independent, marketing Grasshopper's backlist on DVD and for download while writing and illustrating her own children's stories.
Chris and Uli at GrasshopperIsland.net are delighted to put together this little website to pay tribute to the much loved story and to dig a little deeper into the production and background to the tale of three adventurous boys and how they came to live on Grasshopper Island.
The site is built on spare time, coffee and possibly the occasional sip of something akin to Grasshopper Wine. The site is non-profit!