Grasshopper Island - The Book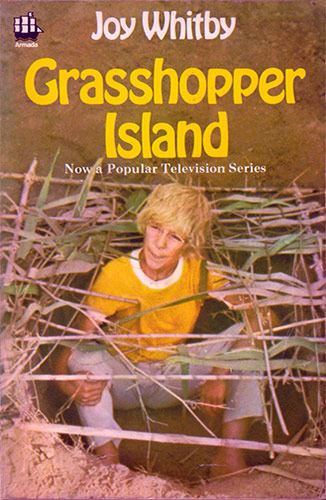 1971 Edition - front
This is the cover of the original edition of Grasshopper Island published by William Collins Sons & Co Ltd. It features a scene from the final TV episode "Buttons' Blue" where Toughy is hiding as part of an ambush for nasty Dr. Hopper. This scan is from the website author's personal copy published in 1971!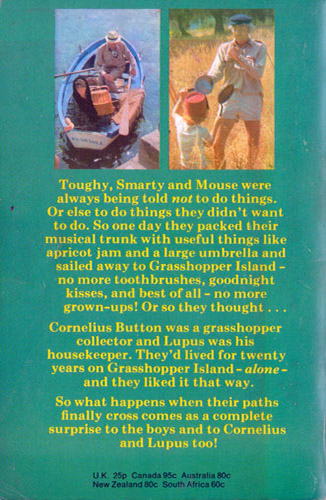 1971 Edition - rear
This is the rear cover of the 1971 edition. It features two production photos, Cornelius Button and Lupus returning from a shopping expedition to the Mainland, and another of Mouse getting rid of Dr Hopper.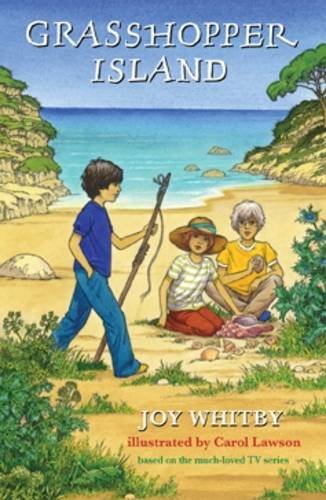 ---

The book cost 25p in 1971. That's equivalent to £3.50 or €4.00 in todays money!
The TV Series came first
The book was based directly on the TV series - which Joy wrote after the filming in 1970. This meant that both the book and TV series became fantastic companion pieces to each other. Characters and locations in the book match exactly those shown on TV, and now, on DVD.
Illustrations
Likewise Carol Lawson based her original illustrations on the key scenes and characters as depicted in the TV series.
You can take a look at some of Carol Lawsons many other fascinating works by visiting her website carollawson.co.uk
Publishers often created their own cover illustrations in house. So it is possible to find different cover treatments depending on the country of publication.
Original German Book Cover
This is a German edition from 1973 with bespoke cover illustration.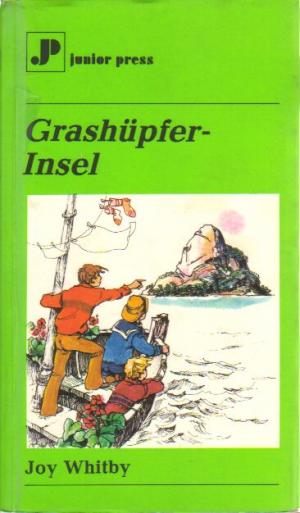 Junior Press were the publishers for Germany. A different cover shows the boys catching their first sight of Grasshopper Island (illustrator unknown).
Photograph kindly provided by Uli
Original German Book Cover
This original German edition from 1973 is great - but there is a slight problem. Can you spot it?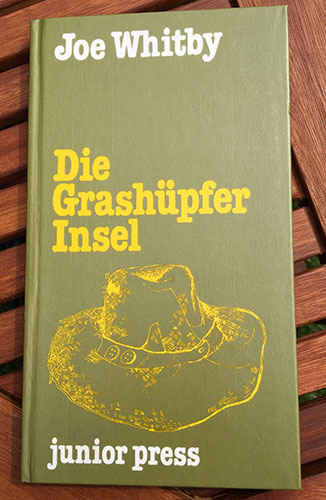 This cover shows one of Mouse's collection of hats (illustrator unknown). But the author is attributed to "Joe Whitby", a rather glaring error but in hindsight, quite a funny one!
Photograph kindly provided by Uli
---
Do you have a different edition of
Grasshopper Island?
If you have a different edition of the Grasshopper Island book, we would love to see a photo.
You can send it by email to us here at grasshopperisland.net. You will find email links in the footer below.